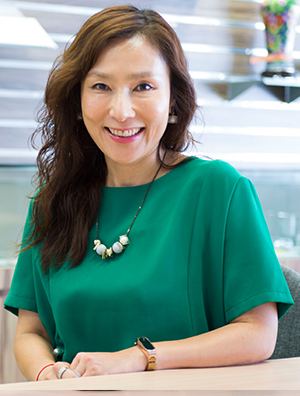 Good morning. Teachers and students, I am your new Principal Fung Nga Sze Agnes. It brings me great pleasure to be here today for the opening ceremony for the academic year 2017-18 of Po Leung Kuk Lee Shing Pik College. This is the first time that I made a speech as a School Principal; it actually makes me feel excited and slightly nervous. I feel excited because I am deeply honoured to serve as the fourth Principal of this school of 35 years. This school feels both familiar and strange to me as I have served in another Po Leung Kuk school for the last 20 years. While you were enjoying your summer holiday, I have participated in several activities in this school already, such as the Form 1 orientation parents' talk, PLK flag day, Form 1 orientation program; I was greeted by students and staff with smiles, and even waving of their hands. With these warm gestures, I feel that this is a warm and friendly school, and I am a warm and friendly person, I feel that I am right at home! From this day onwards, there will be many chances when we shall bump into each other around campus or in various functions. Please feel free to share with me whatever you are thinking or feeling about your studies, your school and so on. Of course, a simple word of greeting, a smile or even a nod would also be taken as a sign of connectedness.
The name ' Shing Pik' has a literal Chinese meaning of 'Gem of a City' and indeed it is a gem. Its tranquil campus houses a vibrant community of learners and teachers, and its innovative education model and curriculum design was quite well known in the education sector in Hong Kong. The school's success is a result of its past Principals, teachers, staff and students. It is my greatest honour to become the fourth Principal of the school and I have the greatest admiration for my predecessor, Mr. Au Yeung who retires as from this year and I wish the best in his retirement life.
If I were to name an experience that has the most profound impact in my life, it would be my boarding school life in the UK during my secondary school years. My school teachers and friends not only opened me up to the wonders of a wide range of human knowledge through what they taught. They also shaped my character through what they were: dedicated, compassionate, wise, humorous, liberal, imaginative, balanced, reflective and thorough. When you become a young person with a career, what people would notice is not your exam grades but the kind of person you are. I am not telling you that your studies were not important (because they are of crucial importance). Rather, I wanted you to see your academic performance as part of a bigger picture, that it is a part of, but not the whole of your whole person development, which is fundamentally more important and long lasting.
After graduating from the Hong Kong Polytechnic University many many years ago, I joined an international accounting firm and started my career as an accountant. But very soon, I lost interest in money, I wanted to affect changes and impact in people, especially, young people's lives. So I became a teacher who teaches people rather than just teaching contents in textbooks. My experience in the business sector enabled me to look at education from a different angle, as I would also demand my students to understand what professionalism is, and to equip themselves with problem solving skills, communication skills and teamwork spirit in order to survive and stay competitive in the work environment. My dear students, if you are a part of any school team or if you are assigned with any duties or projects, please see them as opportunities to train yourself in becoming a successful person in the future.
In my brief reading of the school's records, our HKDSE results were satisfactory with an overall passing rate of 92%. 6 subjects obtained 100% rate as well. So, well done everyone! The most outstanding highflyer, 黃悦兒 of 6E achieved 1 level5 ** 2 level 5* and 3 level 4; closely followed by 朱穎芝 achieving 4 level 5* and 2 level 5 and 1 level 4.
Apart from I am impressed with what the school has achieved last year, for instance there were several successful and meaningful study tours held, students have traveled to the Czechs Republic, Hungry, Taiwan, Singapore and the Mainland. These trips have surely broaden your prospective and exposure. Two of our teachers Ms. Lo and Ms. Siu have also represented the school and Hong Kong to participate in an international teachers' exchange program in Tokyo a few days ago, I urge you to follow their suits and make this coming year a meaningful one, it is up to you to make it worthwhile.
Highlights of the coming month include the F4 Beijing Study Tour being sponsored by our sponsoring body, the Po Leung Kuk. A total of 111 teachers and students of our school will be joined with 4 other PLK schools making a total of 680 people visiting Beijing from 17th to 21st of September. All Form 5 students will participate in an overnight adventure based camp from 8th to 9th in September. The purpose of the camp is to continue the strengthening of team spirit amongst students as well as self-confidence within our F5 students who will face much challenge ahead as they approach the final years of secondary school lives.
This year would be the second year of our school's 3-year School Development Plan, We have two major concerns throughout these three years. One of them is about the promotion of Careers and Life Planning education for both teachers and students; and the other one is to promote English learning further through collaboration among different subjects in the junior secondary levels
As we all know, Career and Life Planning is an important aspect and we should start planning as soon as possible. As a student, Career and Life Planning is a process of career decision making, from understanding oneself to developing, researching, followed by connecting oneself to exploration of study or training opportunities; this approach would enable students in planning ahead better for their future and actualizing meaningful goals in their lives.
In addition, to enhance students' language proficiency is always our goal. With good command of language, we could learn a lot of knowledge from reading and communicate effectively with others. Over these years, our school has been introducing a lot of measures to enhance the English Language proficiency for our students. For the following two academic years, our school has an intention of collaborating different subject groups to introduce some interesting and innovative measures for you to learn subject content on the one hand; and polish your English proficiency on the other.
Apart from these two major concerns, we also intend to advance the scientific and technological development in school. It is our belief that we should do something more in science and technology in order to equip our students with all the 21st century work-ready skills. We hope that students could be nurtured to be creative, innovative, far-sighted and persistent in problem solving. These are the qualities people need in the 21st century. We hope that we could help develop our students towards these aspects. Hope you all enjoy your life in our school.
Teachers are sometimes referred as 'gardeners' in Chinese, as it is their job to help you develop and grow into the best that nature has installed in you. I hope that you could cooperate well with our teachers and let them help you to shine and grow during your years in school.
Finally, I have to tell you my motto in life, 'Do yourself justice'; it was actually a phrase handed down to me by my favourite teacher, Mrs. Breward. I remember she would always say this phrase to me instead of saying 'Good luck' to me right before each time when I sat any exams or entering any interviews. What she meant was that we should all do our best with our talents and potentials but not to be wasteful of our talents, our gifts or our interests, and everything we have got and especially our precious and limited time on earth. Be fair to yourself; don't waste anything that you own, because, quite sadly, everything passes away, including your youth.
My dear students, next time, when you pick up your mobile phone to check onto your favorite social media or online game, can you please remember that your competitors in life may be using their time more wisely and therefore will always be ahead of you.
Let's make today a good start, Let's be productive and effective!
Make the right Choice, take the Chance and make the Change you want in your life!
Thank you very much.